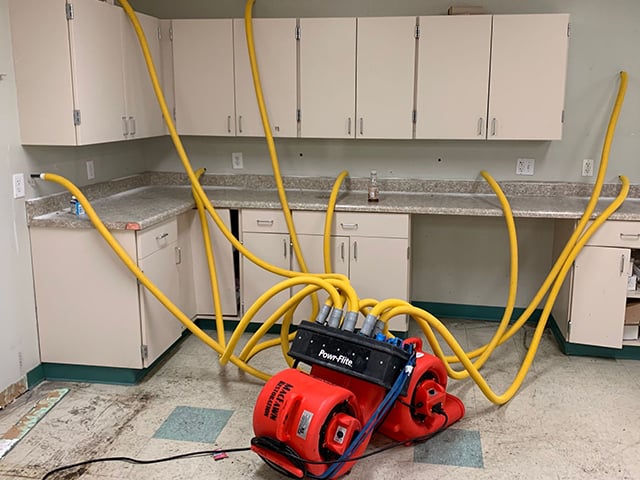 When it comes to water damage, time does not heal all wounds. Over time, the secondary destruction that will inevitably take place causes considerably more damage to your home. According to Forbes Advisor, approximately one in 50 homeowners file water damage claims every year. Water damage accounts for 29% of all homeowners insurance claims, and the average cost of a water damage claim is $11,098.
Common Causes of Water Damage
By learning the leading causes of water damage, you're taking the first important step to keeping your family and home safe and protected.
Leaky Pipes
Cracked or loosened pipes can cause water damage ranging from a few spots to large mold and restoration issues. If the pipe is below the kitchen sink, it might only affect the cupboard beneath. However, if the pipe is behind a wall, you could have a much more extensive issue.
A good habit is to check the pipes you can easily access once a quarter, or more often during the colder months when you made need to take steps to prevent your pipes from freezing and bursting.
Severe Weather
Extreme weather doesn't happen often, but when it does it can cause serious water damage to your property. Strong winds and a heavy downpour can lead to roof damage, allowing water to seep in, sometimes undetected. Flash floods are also possible, depending on where you live, and can arrive with little to no warning or time to prepare.
Severe weather and flood cleanup can take a long time and potentially cause more damage if not done by professionals.
Faulty Appliances
In certain parts of the country, air conditioners could be running from noon to night during the summer months. While this is an essential need, condensation from the A/C can sometimes build up above its drainage capacity, due to a damaged or clogged drainage pan, and overflow into your home.
Washing machines, refrigerators, and water heaters also have vulnerable water lines that are liable to leak and cause water damage throughout your home if left unchecked. If this happens, extensive restoration and drying could be needed.
Blocked Gutters
Gutter systems are designed to draw water away from your home to prevent damage. This works well until leaves, sticks, and debris begin to clog gutters, causing the water to build up and overflow. If left unchecked, serious water damage can be caused to the roof, or around windows.
Make a point to clean your gutters at least twice a year. If you have lots of pine trees and foliage near your home, you may need to clean more often. We recommend once every three months.
What to Do if You Encounter Water Damage
Contact a water damage professional immediately if you encounter water mold damage in your home. The more water creeps into parts of a home that it shouldn't, the more costly water damage cleanup and restoration can become. The damage can also be deceptive, with a small spot in one corner of a room hiding a much larger problem beneath.
No matter how small or serious the issue, our water damage experts are here to help. MacFawn provides water damage restoration services in Albany NY, Worcester MA, Tampa FL, Media PA, and the surrounding areas. Contact us online or call 877-MACFAWN for 24/7 Emergency Response.